Just lately Chipmunk has been playing in water *a lot.*
First of all there is obviously his swimming,which he loves.
Secondly after tidying his water tray out he has been playing with it on a regular basis.
I love the fact that Chipmunk fills his water tray up all by himself.He's got his own bucket and can manipulate the outside tap.He knows that it's best only to fill the bucket half full as otherwise it gets to heavy to carry.The carrying of water in bucket is good for him because it is heavy and makes him use his muscles and it's also good to see him tip the water into the tray as he has to manipulate the bucket to get the wanted result,not a straight forward task!
We made boats for it yesterday from junk material and talked about *attaching*
Chipmunk used Sellotape to attach the sails to the boats and then we went and experimented with the boats in the water tray.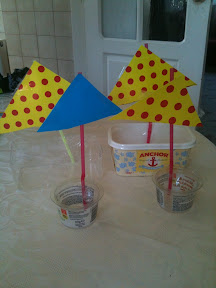 Two were successful but the other two sank and had to be dried in the sun.
The successful boats did indeed float and Chipmunk was really pleased with them.
Here they are bobbing merrily along
The other area of water play that Chipmunk adores is his paddling pool.
It may only be small but Chipmunk has hours of fun in it,proving that it's not always the big fancy toys that are the best!
Even on a cloudy day Chipmunk will play in his pool,he's not bothered about being cold or wet at all.
I think we are going to be using water a lot this summer :-)
- Posted using BlogPress from my iPhone